About Us
Welcome beaders, crafters and home jewelry makers!
eCrafty.com offers flat rate shipping for US orders ~ $5.00 for 1 or 100 items.
We offer several discounts based on order size, and we also offer 20% discounts every day - on any size order - for our eNews subscribers.
Save 20% monthly ~ subscribe to our our e-newsletter here!
See the latest issue of our latest newsletter here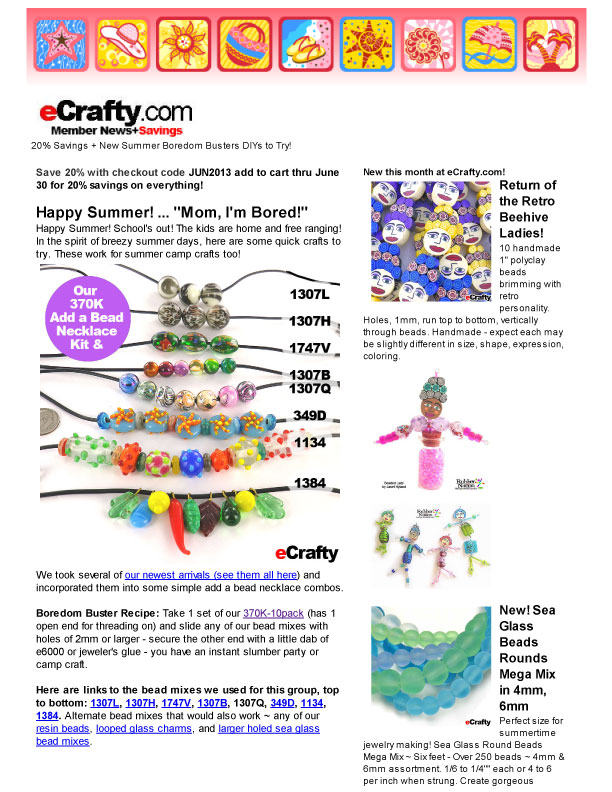 Volume Discounts
Instant Coupon Codes for You to Use NOW!
Get FREE shipping & save $10 - $50 on your order of $100+ by entering these codes on your cart page. Your savings will be applied in your cart before you complete checkout.
BRONZE10 ~ $10 off orders over $100 (10% savings)
SILVER15 ~ $25 off orders over $170 ($15% savings)
GOLD20 ~ $50 off orders over $250 ($20% savings)

We have a warehouse office space in the old movie theater building in the lovely coastal town of Half Moon Bay, California, just across the street from Moonside Bakery ~ a divine stop by the way. Go there. After you come here!
You are welcome to pick up your order in person if you're passing through ~ please e-us (info@ecrafty.com) and be prepared for a whole bunch of boxes, some smiling helpers, and, of course, an EXTRA bag of freebies!
We have a wonderful team of truly inspired customer service folks ~ all here to help make sure your order is exactly what you need. You will see our names on your handwritten thank yous we include with every package. We love to pack up your orders and freebies ~ We're constantly inspired by the combinations our customers put together!
We've offered a wide variety of arty beads and crafty jewelry components to our wonderful customers since 1998. (Over 14 years now!) We supply the things you need to make beaded or photo and art jewelry as well as other related fun wearable crafts at home.
Although our main business is hosted on our website, you will also find our products on Amazon.com ~ available for free shipping with your Amazon Prime membership! You will also find some of our items on eBay (eCrafty1) with over 12,000 feedbacks - at 100% positive ~ for the past 14 years straight.

We specialize in altered art supplies, millefiori beads, glass bead mixes, bargain bead mixes, photo jewelry, photo jewelry supplies, lampwork glass beads, jewelry findings, make it tonight ideas, kids crafts supplies, memory frames, memory frame jewelry, necklace cords (organza, ball chain, leather, rubber), and tons of other things to get your imagination sparking!

In a nutshell, we're here to make sure you're happy with your purchase! Hope to see you soon!
Happy Creating!
Kim N, Cheryl, Anne, Kim S, Kelly, Nick, Robin, Becky, Hannah, Shenoa, Christian and Molly!